And the winner is... Les actions de petites et moyennes capitalisations japonaises (catégorie Morningstar risque de change compris) avec une performance 2017 de 31,88%.
Plusieurs asset managers à l'instar de Rothschild via R Club ou M&G via M&G Dynamic Allocation avaient d'ailleurs investi sur les actions japonaises.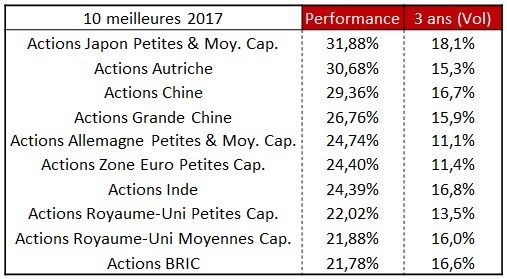 Cette surperformance des petites capitalisations n'est pas le seul apanage du Japon puisqu'on la retrouve en Europe (zone euro + UK).
Les autres grands gagnants de 2017 sont les actions pays émergents (surtout Asie) et zone Euro quelle que soit la taille de capitalisation.
C'est donc bien le cocktail Europe + Asie qui a donné la meilleure performance en 2017 pour un investisseur européen.
Sans le risque de change, le classement aurait été sans nul doute différent.
Côté « flops » pour 2017 (en EUR), on retrouve globalement les actifs en USD, pénalisés par la hausse de l'EUR/USD sur la période.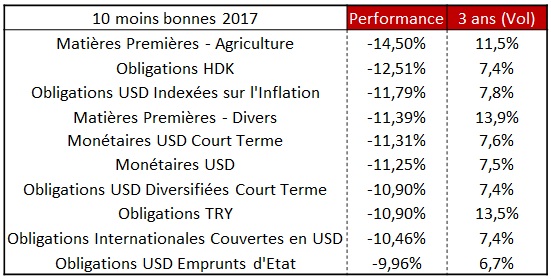 Les matières premières sont doublement pénalisées par la baisse de la classe d'actifs et par le change (elles sont essentiellement côtées en USD).
On trouve aussi les obligations turques pénalisées par le change et une situation politique tendue.
Copyright H24 Finance. Tous droits réservés.